Cobb Loaf with Cheese and Spinach Dip

Print Recipe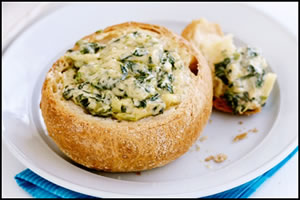 Cobb Loaf with Cheese and Spinach Dip
2015-03-21 00:26:39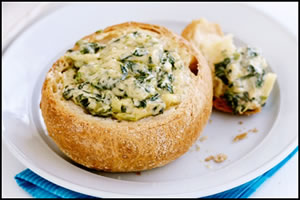 Ingredients
1 Cobb Loaf (unsliced)
500g of Spinach (blanched and chopped)
1 packet of French Onion soup mix
1 cup Mayonnaise
1 cup of Light Sour Cream
250g of Cream Cheese at room temperature
3 Shallots finely chopped
1 cup of shredded cheese
Curry Powder (added according to taste)
Instructions
Preheat oven to 180°C.
Line a baking dish with foil or baking paper.
Cut a "lid" from the top of the Cobb loaf and hollow out the centre.
Set aside remaining pieces. These are used to dip into the cheesy dip mixture.
Combine spinach, French Onion soup mix, mayonnaise, sour cream, cream cheese, shallots, shredded cheese and curry powder.
Fill the loaf with the combined cheese mix and cover with the "lid".
Bake 15 - 20 minutes until the cheeses are warm and melted.
Prior to removing from oven, scatter the remaining bread pieces on to the tray to crisp up (no more than 5 minutes). Be careful not to over-cook the loaf as it may become too crusty.
Serve while still warm.
Recipe by Anglicare North Queensland Limited.